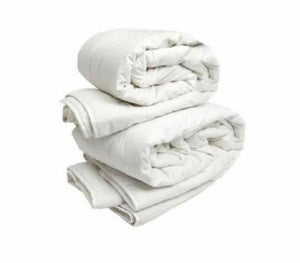 All seasons cleverly bring together two of nature's finest fibers, cotton and wool. The all seasons is composed of One quilt filled with 250 gsm of high-grade Australian Wool and a second attachable quilt filled with 350gsm high-grade Australian wool. The wool fillings have specifically been chosen for purity and quality.
The combination allows for the customer to sleep under the 250gsm in the warmer months, a 350gsm weight wool during the spring and Autumn and a combined 600gsm wool in the cooler months. There is no longer a need to buy separate quilts for winter and summer.
The all seasons quilt provides the sleeper with two quilts that clip together, making it a true all-seasons bedding necessity. Once clipped together these 2 quilts will act as a winter weight quality quilt for those colder times of the year or for those simply wanting a winter weight quality quilt. 
FEATURES:
Aust MADE ALL-SEASON Wool Quilt Machine Washable
Filled with ultra-soft wool filling
300tc 100% Japara cotton cover.
Wool has been lofted by using Airplay process to create the best insulation
Environmentally friendly
Fully washable for easy care
AVAILABLE IN ALL SIZE:
Single: 140x210cm
Double: 180x210cm
Queen: 210x210cm
King: 245x210cm
The Four Seasons Australian Made Wool Quilt- Machine Washable destined to impress, and priced at only $219.95, for a limited time.

Inventory Last Updated: Dec 09, 2023