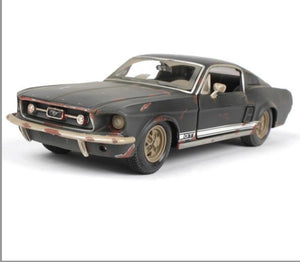 Looking for the perfect birthday gift for your child? You got the best 1967 Ford Mustang Toy car with its sleek design and metal alloy body that your child will love to play with. The model car has a detailed interior and stylish exterior and has rims and rubber tires to make it a joy to look at. The metal alloy body makes it an ideal choice to withstand any scratches, making it unbreakable and durable. A smooth body prevents children from getting injured. It slides smoothly on flat surfaces, even without batteries, to provide your child with long hours of playtime. The model car comes already assembled so that child can pay immediately as he opens the package.
Specifications:
Material: Metal Alloy
Size:
Length: 19cm, Width: 6.8cm, Height: 5.0cm
Features:
Durable, smooth rubber tires.
Theme: Sports
Style: Modern
The 1967 Ford Mustang GT Car Alloy Model is the yin, to your yang. You've found what you're looking for.

Inventory Last Updated: Dec 05, 2023