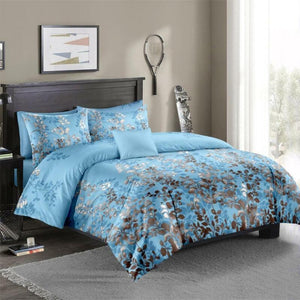 Sleep tight with Christmas bedding and Christmas quilts 

Bring a touch of Christmas into your bedroom with Christmas bedding sets.
Festive duvet covers and bed sets featuring cute Christmas designs.
Celebrate the festive season from the comfort of your own bed with our fabulous Christmas Bedding, including Xmas themed duvet sets.
Material/ Filling: 
Polyester
Quilt Cover Set---Woods Blue

Material:Polyester 
--300 Thread Count
Single Set Includes:

1 x Single Quilt Cover : 140cm x 210cm
1 x Standard Pillowcase : 48cm x 73cm
King Single Set Includes:

1 x King Single Quilt Cover : 160cm x 210cm
1 x Standard Pillowcase : 48cm x 73cm
Double Set Includes:

1 x Double Quilt Cover : 180cm x 210cm
2 x Standard Pillowcase : 48cm x 73cm
Queen Set Includes:

1 x Queen Quilt Cover : 210cm x 210cm
2 x Standard Pillowcase : 48cm x 73cm
King Set Includes:

1 x King Quilt Cover : 240cm x 210cm
2 x Standard Pillowcase : 48cm x 73cm
Super King Set Includes:

1 x Super King Quilt Cover : 240cm x 270cm
2 x Standard Pillowcase : 48cm x 73cm
Every product is unique, just like you. If you're looking for a product that fits the mold of your life, the Woods Blue Christmas Quilt Cover Set is for you.

Inventory Last Updated: Dec 09, 2023