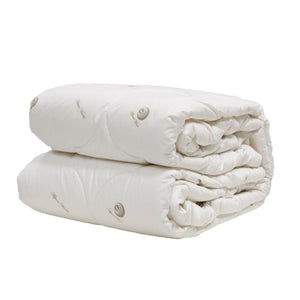 Australian Made Alpaca Wool Quilt
Plenty of people look at sheep's wool and other types of cotton when searching for bedding, but did you ever think of how an alpaca's wool can also be just as comfy? Don't count sheep when you're trying to go to sleep, start counting the adorable alpacas! You can start sleeping in comfort with these high quality quilts that are thick and warm at 500GSM so that you can feel ready for your restful sleep. It might even be difficult to wake up and get up in the morning, but it is better to feel well rested.
The Premium Alpaca Wool Quilt is among the very finest, softest and highly regarded fibres in the world. We have combined these fibres with proven and reliable methods to create our alpaca quilt. The cover is constructed of the finest Egyptian cotton sateen fabric and the filling is a blend of alpaca fleece and  Puffy Wool. The result is an alpaca quilt that is wonderfully soft and balanced with warmth and breathability
 FEATURES:
100% Finest Cotton Sateen Fabric.
Blend of Alpaca and Wool  – 500GSM.
Natural and Breathable.
Healthy and Safe.
Warm in Winter ,Cool in Summer.
Super soft and cosy for a warm night's sleep.
Quality Australian made product.
Dry clean only. 
AVAILABLE SIZES:
Single: 140cm x 210cm.

King Single: 160cm x 210cm.

Double: 180cm x 210cm.

Queen: 210cm x 210 cm.

King: 240cm x 210 cm.
The Australian Made Alpaca Wool Quilt was built with people like you in mind. Something to keep you happy. Every. Single. Day.

Inventory Last Updated: Dec 09, 2023